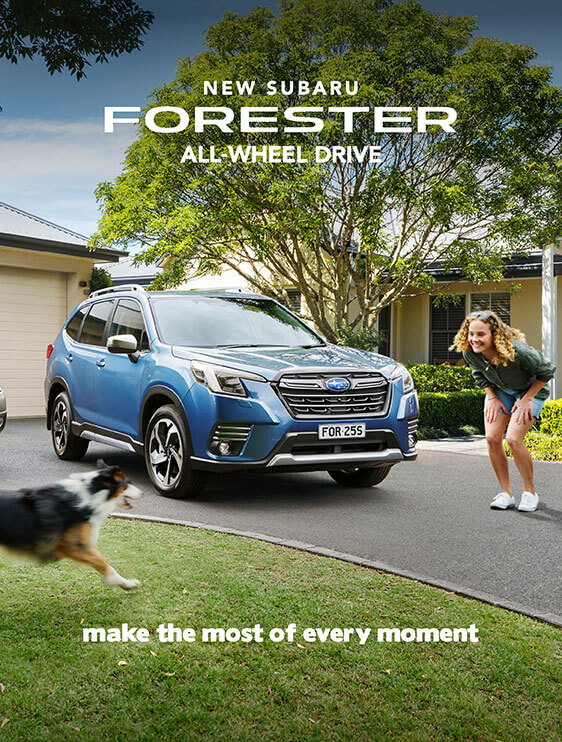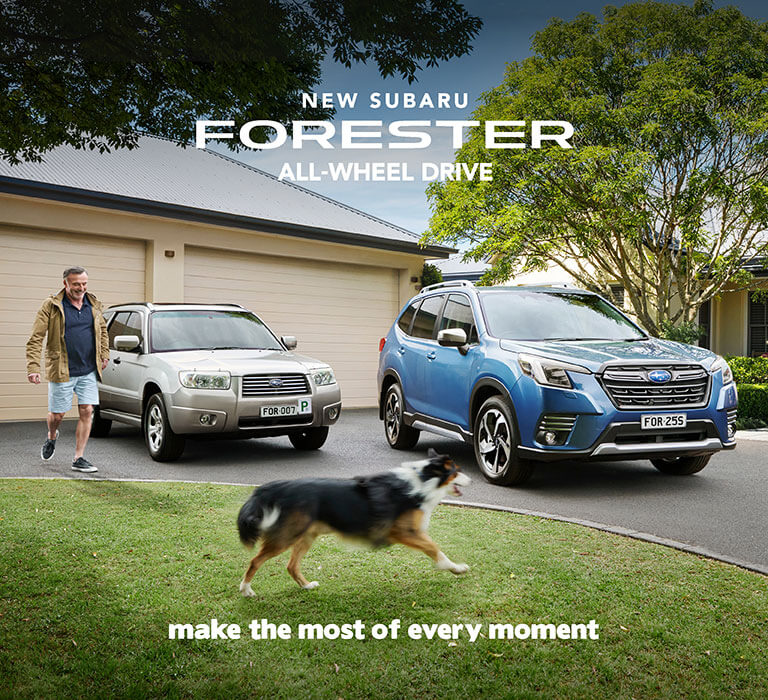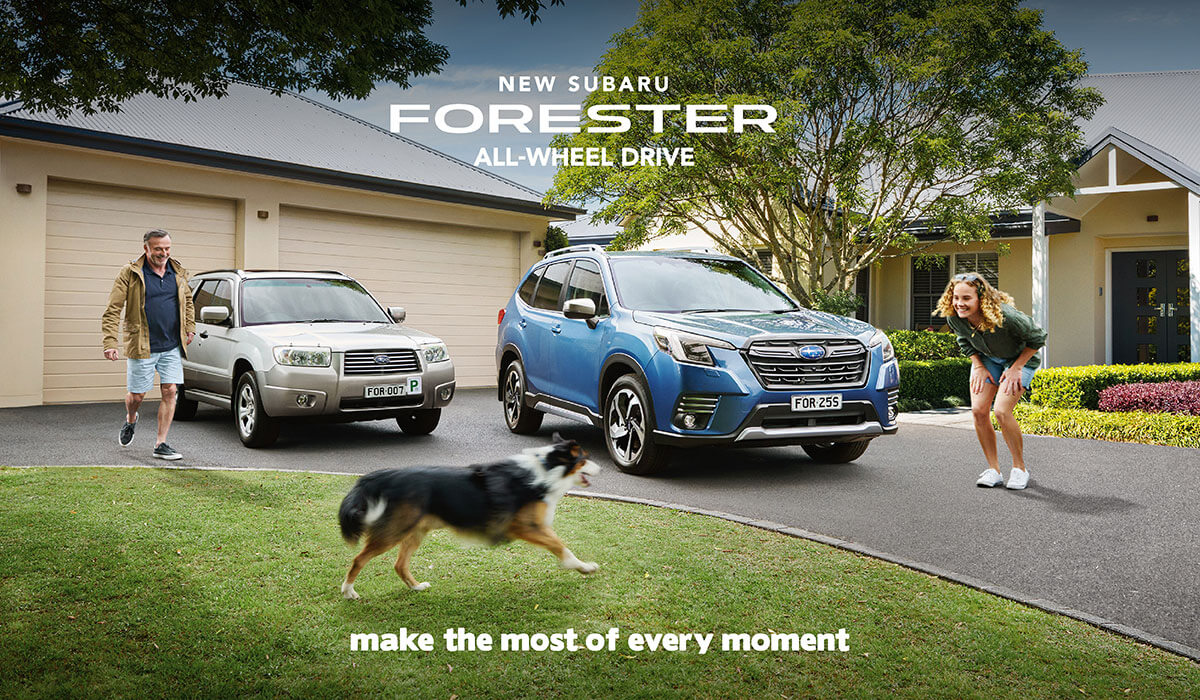 2022 Subaru Forester
Get ready to experience the love felt by generations of Australians with the new 2022 Symmetrical All-Wheel Drive Subaru Forester.
An absolute beloved classic, the Forester has been passed down through generations and loved since the very beginning. There really is no better SUV for you and your family to embrace epic adventures, spontaneous trips and everyday moments for memories that will last a lifetime.
Redesigned with enhanced technology, safety and off-road confidence, this stylish SUV just keeps getting better. Boasting 7 legendary variants across the range, including Sport and Hybrid e-Boxer, plus even more features as standard, the Forester will help you make the most of those 'grab them, or you'll miss them' moments that can make your day.
Which Subaru Forester will you do?
Let's do Colour
* All colours are available as at 15th November 2021, however available colours may change. Always check with your authorised Subaru Retailer regarding colour availability of your selected model before purchase. All vehicle images shown are Subaru Forester 2.5i-S AWD, excluding the Dark Blue Pearl, which is a Subaru Forester 2.5i Sport AWD.
Connect with technology
Every moment needs a soundtrack. Subaru has integrated Apple CarPlay® and Android Auto™*Compatible Apple® or Android™ device required. connectivity into the Subaru Forester, all on a big, responsive 8" touchscreen. Voice commands let you effortlessly choose playlists, play podcasts, get directions and send texts. Or leave the song selection to someone else with the crystal-clear, fully integrated DAB + Digital Radio*Digital radio reception not available in all areas. so every roadtrip rocks. Turn it up.
Subaru Forester 2.5i-S AWD shown
Your safety is our priority
For generations, Forester has put safety first, front to back. And the new Forester takes protecting your family to another level. Revolutionary facial recognition technology monitors the driver's attention*Driver Monitoring System performance and capability dependent on environmental and technical conditions. Refer to Owner's Manual for full details. Not available on Subaru Forester 2.5i AWD., Reverse Automatic Braking*Driver Monitoring System (DMS) performance and capability dependent on environmental and technical conditions. Refer to Owner's Manual for full details. DMS not available on Subaru Forester 2.5i AWD. detects trouble you don't see coming, and EyeSight® Driver Assist acts as a second set of eyes on the road. And that's just the beginning.
Subaru Forester 2.5i-S AWD shown
EyeSight<sup>®</sup> Driver Assist

Driver Monitoring System (DMS)

Tyre Pressure Monitoring System (TPMS)
Setting the standard
Forester has been setting the standard for family SUVs over its five generations. And with a range of models and personalisation available it's easy to fall in love with one of our most popular and awarded cars. So, where will the new Forester take you?
Subaru Forester 2.5i-S AWD shown
Steering Responsive Headlights (SRH)
Having fun is now a habit
Subaru Forester, with a 2.5L direct injection horizontally-opposed Boxer engine, is engineered to power family fun for longer. Meanwhile, an e-Boxer engine combining Subaru's 2.0L direct-injection horizontally-opposed Boxer petrol engine and a self-charging battery powered electric motor, Subaru Forester Hybrid can take your family on adventures that leave less of a footprint on the planet.
Subaru Forester 2.5i Premium AWD shown
Symmetrical All-Wheel Drive (AWD)

Lineartronic<sup>®</sup> CVT

Subaru Global Platform (SGP)

Subaru Intelligent Drive (SI-Drive)
Get the keys to your next Subaru sooner
Subaru Financial Services brings you and your Subaru together, faster. It's like a Vegas wedding, with a bit more class and a lot better with numbers. And the only thing better than your new Subaru, is your next one. So we work hard to make upgrading into a newer Subaru more often, part of the process. It's a lifelong love affair - we get it.
Your Forester, your way
Epic adventures, spontaneous road trips and everyday drives - Genuine Subaru Accessories let you tailor your Forester to make the most of any moment with the confidence to embrace wherever the day, and the road, takes you.
Subaru Forester 2.5i Sport AWD shown with optional Subaru accessories sold separately
Subaru Owner's Club
Subaru is all about family. And the Owner's Club is all about welcoming you to ours, with lots of extras and benefits attached. If you already own a new or used Subaru, you have full access to the Club. If it's your first Subaru, you'll be welcomed with open arms. Come on and feel the love with the new Forester.
Effortless efficiency
Subaru's e-Boxer hybrid, is designed for excellent low-speed acceleration and torque for a responsive drive. In short, Subaru make it easier for your family to find more fun.
Subaru Forester Hybrid S AWD shown