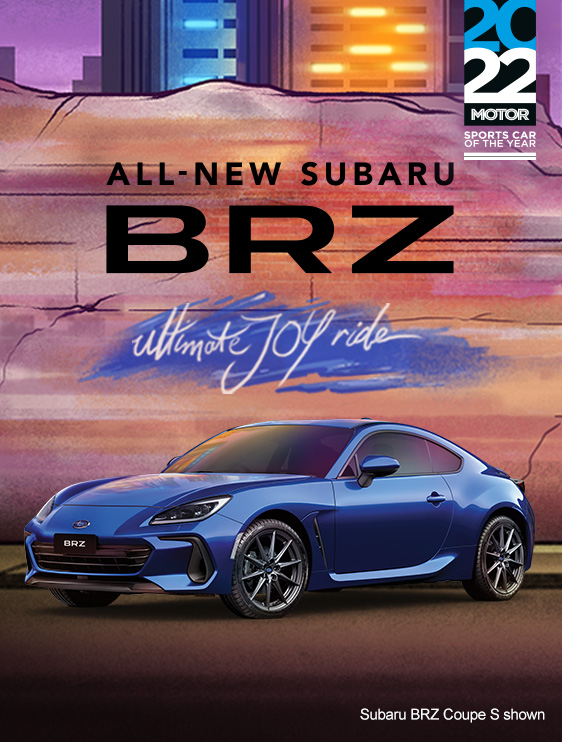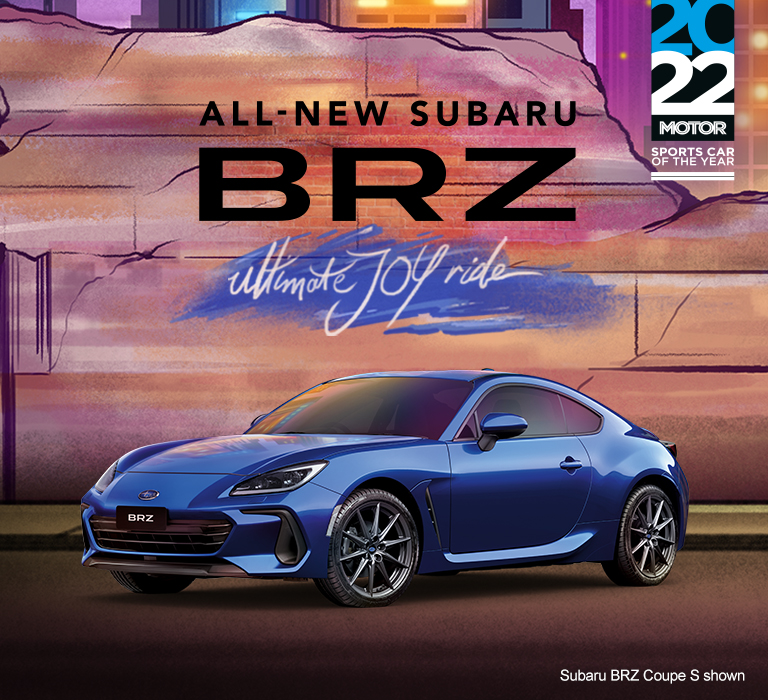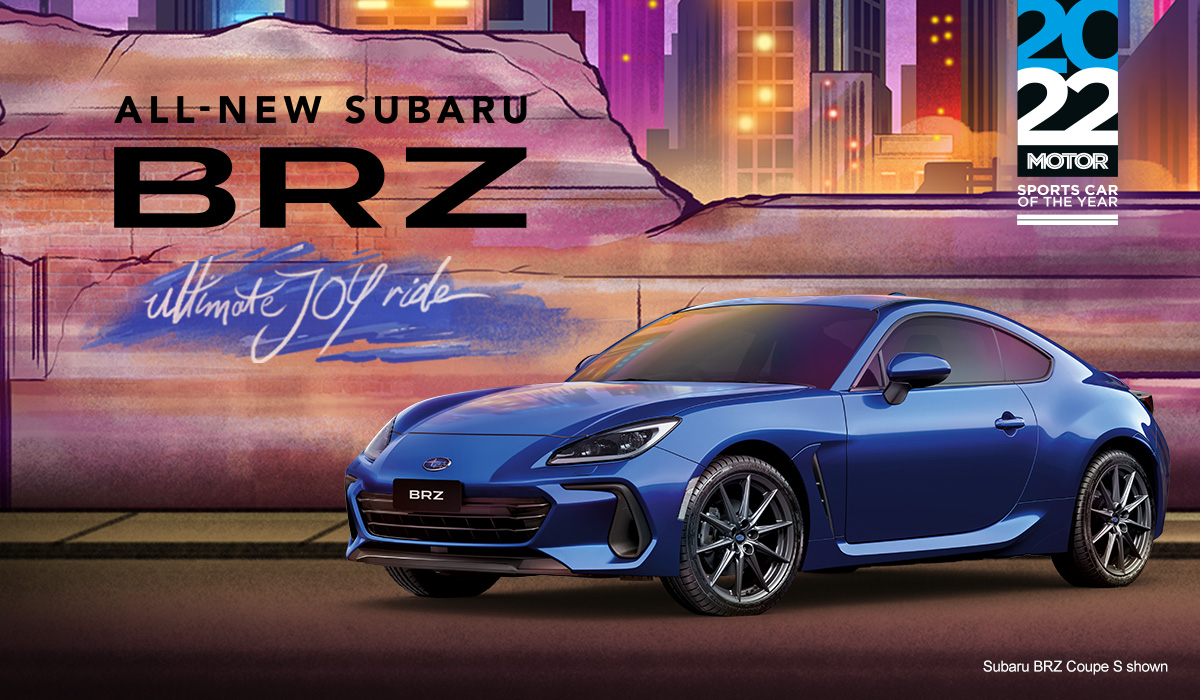 All-new Subaru BRZ
Winner 2022 MOTOR Sports Car of the Year
Born and bred from Subaru high performance DNA with its famous adrenaline inducing Subaru Boxer engine, the all-new Subaru BRZ is the ultimate JOY ride. Completely redesigned and reengineered, this model delivers even more driving pleasure than its predecessor with improved power, torque, acceleration, handling, and epic rear-wheel drive thrills.
It's a unique demonstration of the benefits of the Subaru Boxer engine and low centre of gravity, achieving superior fore and aft weight distribution. It is a unique car in the Subaru range, with a performance driven rear-wheel drive design and Subaru's renowned engineering soul.
When you combine this with Subaru's advanced technology developed over decades of motorsport engineering, you've got a perfectly balanced, nimble sports car tailor-made for a seriously good time. So strap in, grab the wheel of the all-new Subaru BRZ and enjoy the ride - wherever it may take you.
Subaru BRZ Coupe S shown
Download a brochure  Book a Test Drive 
Which Subaru BRZ will you do?
Let's do Colour
All colours are available as at 21 February 2022, however available colours may change. Always check with your authorised Subaru Retailer regarding colour availability of your selected model before purchase. Subaru BRZ Coupe S shown.
Redesigned technology
Subaru BRZ imparts a powerful connection that's at one with the road. Configured to heighten the thrilling performance, the re-designed cockpit delivers an energy and balance that revels in the ride. The driver-focused interior has been engineered to let you curate the driving experience to your mood and your sensibility. Faced with a new configurable, digital instrument cluster you can tweak the information displayed to fully engage with Subaru BRZ's every function. Intuitive controls and switches for frequently used functions put you in control. Information content is displayed loud and clear on the new, 7" LCD digital display and sports-style performance gauges – with everything from power and torque curve and stopwatch to measure lap times.
Subaru BRZ Coupe S shown
Digital instrument cluster
Safety comes in many guises
With Subaru DNA and legendary motorsport heritage running through its veins, the all-new Subaru BRZ takes safety as seriously as it does fun. Racetrack-bred levels of driver control, align with Subaru's commitment to safety, Towards Zero*Subaru Corporation (the Japanese manufacturer of Subaru cars) has publicly stated its aim to reduce the number of fatal accidents in a Subaru vehicle to zero by 2030 as well as the number of fatalities among pedestrians, cyclists, and the like as a result of a collision with a Subaru vehicle. For more information on Subaru Corporation's CSR initiatives visit www.subaru.co.jp/en/csr/safevehicles.html. vision and advancements in collision performance. Subaru BRZ safety comes in many forms to help keep you in line when necessary - including primary, active, passive and the latest safety technologies. Advanced safety technology includes Subaru's Vision Assist and Subaru EyeSight® Driver Assist – on variants with automatic transmission. While high rigidity, excellent collision safety and the inclusion of seven SRS airbags*SRS: Supplemental Restraint System. Effective when used in conjunction with seat belts. support impressive safety credentials and passenger protection performance across the range.
Subaru BRZ Coupe S shown
Towards zero fatal road accidents by 2030
Specs & features
With nailed down aerodynamics and sculpted new exterior lines, the low-slung all-new Subaru BRZ is primed for unbridled thrills. Urging you on, Subaru BRZ's athletic coupe styling echoes its playful ethos. Completely redesigned LED headlights feature a sleeker and sportier look, while the power-folding and heated side door mirrors take on a new aerodynamic shape. The head turning exterior is completed by 18" alloy wheels and Michelin Pilot Sport 4 tyres for a grip that hangs on through the corners. Inside sport bucket front seats optimise the driver's position, with tactile Ultrasuede® and leather accented seat trim on Subaru BRZ Coupe S.
Subaru BRZ Coupe S shown
Premium sports style interior
Performance
With nailed down improved aerodynamics, retuned suspension and a re-engineered chassis optimised for traction, Subaru BRZ is primed for fun and unbridled thrills. Subaru BRZ's sculpted new exterior lines reflect an aerodynamic performance designed to match the raw engine power and boosted acceleration.
An exhilarating and distinctive rumble announces the all-new 2.4 Litre Subaru Boxer engine. Set to raise the stakes, this newly configured engine powers a sublime analogue sports car performance, born from Subaru DNA. Add an ultra-low centre of gravity, improved power-to-weight ratio and retuned suspension – and Subaru BRZ compels you to put it through its paces.
Subaru BRZ Coupe S shown
Get the keys to your next Subaru sooner
Subaru Financial Services brings you and your Subaru together, faster. It's like a Vegas wedding, with a bit more class and a lot better with numbers. And the only thing better than your new Subaru, is your next one. So we work hard to make upgrading into a newer Subaru more often, part of the process. It's a lifelong love affair - we get it.
Accessorise your BRZ
Power your imagination with Subaru BRZ accessories and add a go-fast attitude for the ultimate JOY ride experience.  Featuring premium Subaru engineered accessories custom-made for added street cred with STI extras including rear spoiler, diffuser, under spoilers or air outlet garnish to make the Subaru BRZ uniquely yours.
Subaru BRZ Coupe S shown with optional Subaru accessories shown.
All the bells and whistles
As a Subaru BRZ-loving owner, you're welcomed into a club that gives you full access to a range of owner benefits – and peace of mind from the moment you drive out of the showroom. So discover all the extras that come with the dynamic Subaru BRZ.
Subaru BRZ Coupe S shown